UMASS 4-H Community Service Program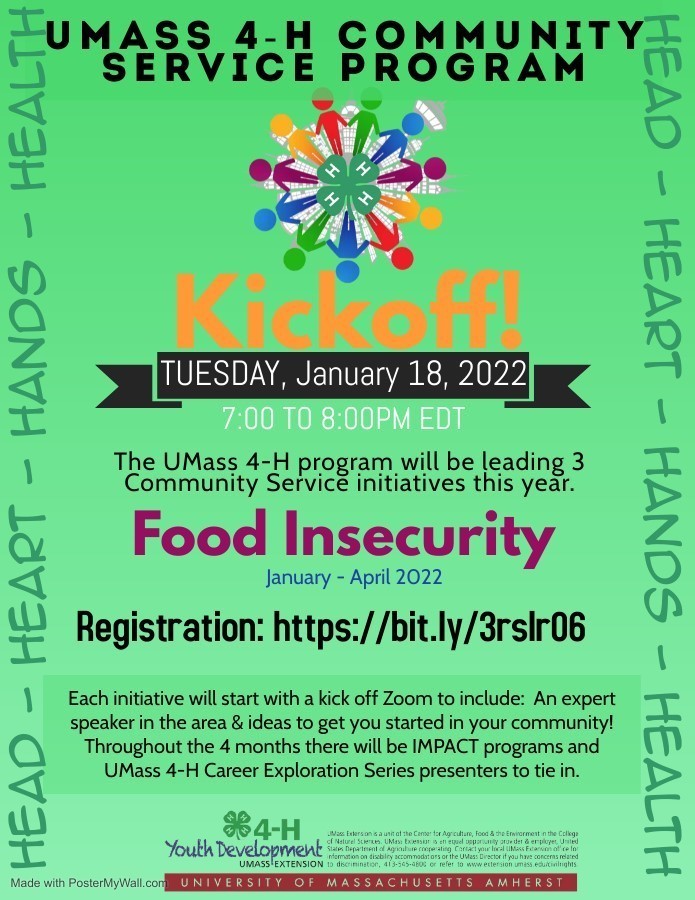 The North Adams Mobile Food Bank is cancelled for today, Friday, 1/7/2022. Thank you.

The Berkshire Workforce Board is again partnering this year with Kristin Asadourian, Personal Development Coach and operator of Living BECOME, providing needed Social Emotional training, guidance, resources and support to our Berkshire community. Please click here to learn more about Kristin and her vital services via Living BECOME:
https://www.livingbecome.com/
Our initial, FREE offering to the Berkshire community this year is a Family Informational Session led by Kristin that is geared to help parents and guardians learn strategies to best support the social and emotional needs of their children during this very challenging time. This lunch-and-learn session will take place on Thursday, February 17, 2022 at 12:00 PM via Zoom. More information can be found within the attached flyer. Please register in advance via this link:
https://bit.ly/BerkshiresFamily

Alternative Behavior Workshop: Redirection For high school students and their families When: 2nd Saturday of the Month 9 a.m. to noon Where: nbCC Conference Rm. 61 Main Street, North Adams To Register, contact: Stephanie Puc (413) 663-7588 ext. 11
spuc@nbccoalition.org
Childcare & transportation available on request.

January 19th UMASS, 4-H Event:

Click here to view the Food Pantries and Meal Sites Master list as of 1/3/2022:
https://5il.co/13qzz

Friday, 1/7/2022 Mobile Food Bank

Resilience Roadshow: Building a Trauma Informed Community FREE virtual training being offered on Tuesday Jan. 25, 2022 from 1:00-2:30 pm by the Trauma-Informed Hampshire County Network. Resilience Roadshow is a 90-minute training designed to support civic and faith-based organizations, libraries, schools (especially non-teaching staff), businesses, municipal boards and departments, health and human service agencies, and other community organizations in better understanding the impact of trauma and how they can address it. Please see the attached flyer for additional information. Register in advance:
https://docs.google.com/forms/d/e/1FAIpQLSfQgJxEvdGSPTd2Sw73X4B7YC2hMYiLwlU2Rw06BH4vIgSXOQ/viewform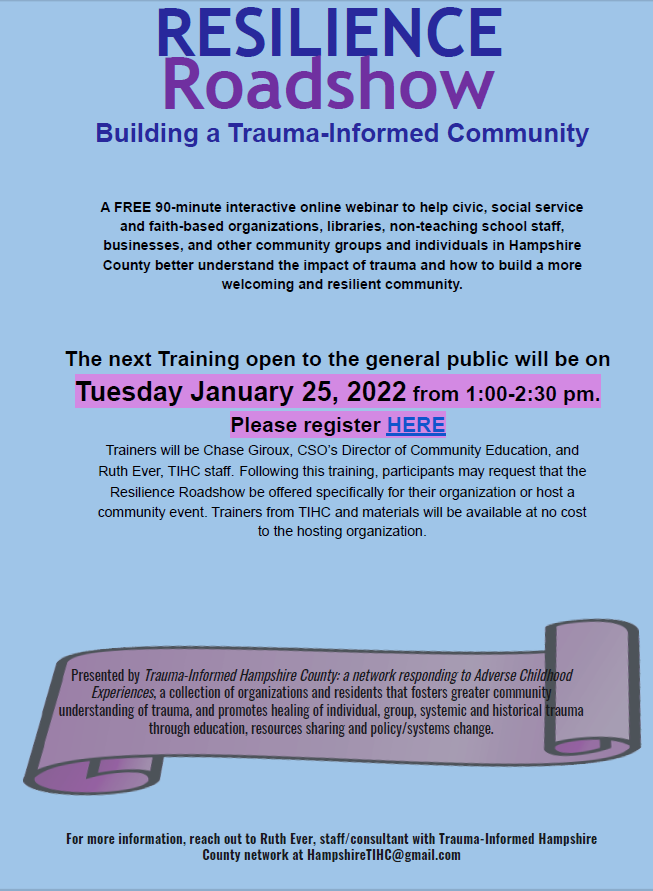 Project Safe Childhood: Keeping Kids Safe and Secure Online Parent Presentation The Berkshire District Attorney's Office, U.S. Attorney's Office, Federal Bureau of Investigation, Massachusetts State Police, Northern Berkshire Community Coalition, and North Adams Public Schools are teaming up to provide parents, caregivers, and educators a presentation on how to best protect children from online exploitation. The law enforcement agencies will present at Drury High School on Wednesday, January 12, 2022. The topics include internet safety, social media 101, digital footprints, online gaming, cyberbullying, sexting, sextortion, and protection against online predators. Dinner and childcare will be provided. Registration in advance is required. Please RSVP by January 5th by contacting Stephanie Puc at the Northern Berkshire Community Coalition (413-663-7588) or
spuc@nbccoalition.org
. *This is currently planned as an in-person event following District and Public Health COVID19 safety protocols.

Upcoming programming from The Family Center.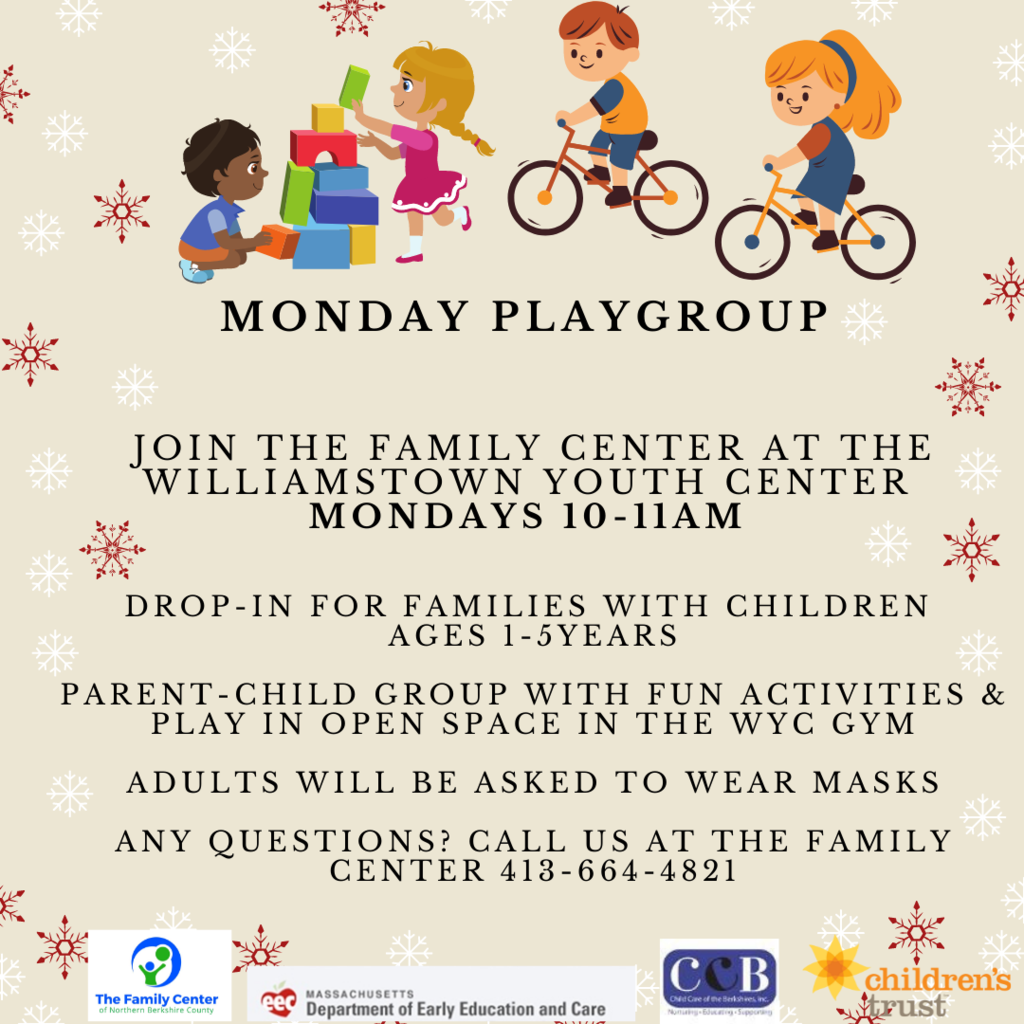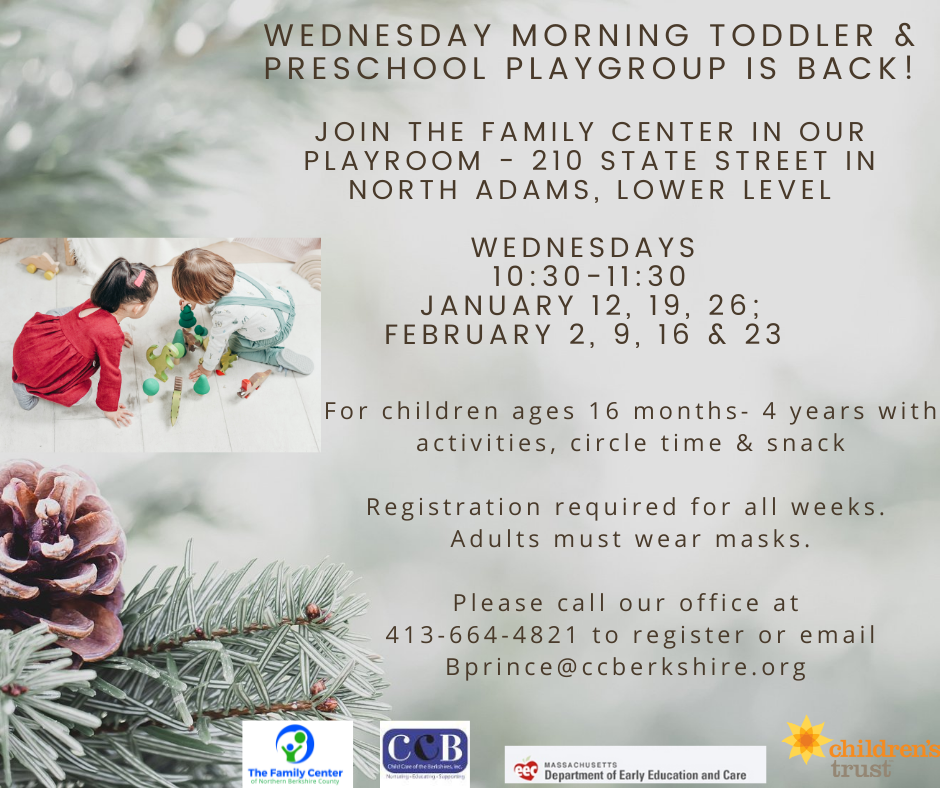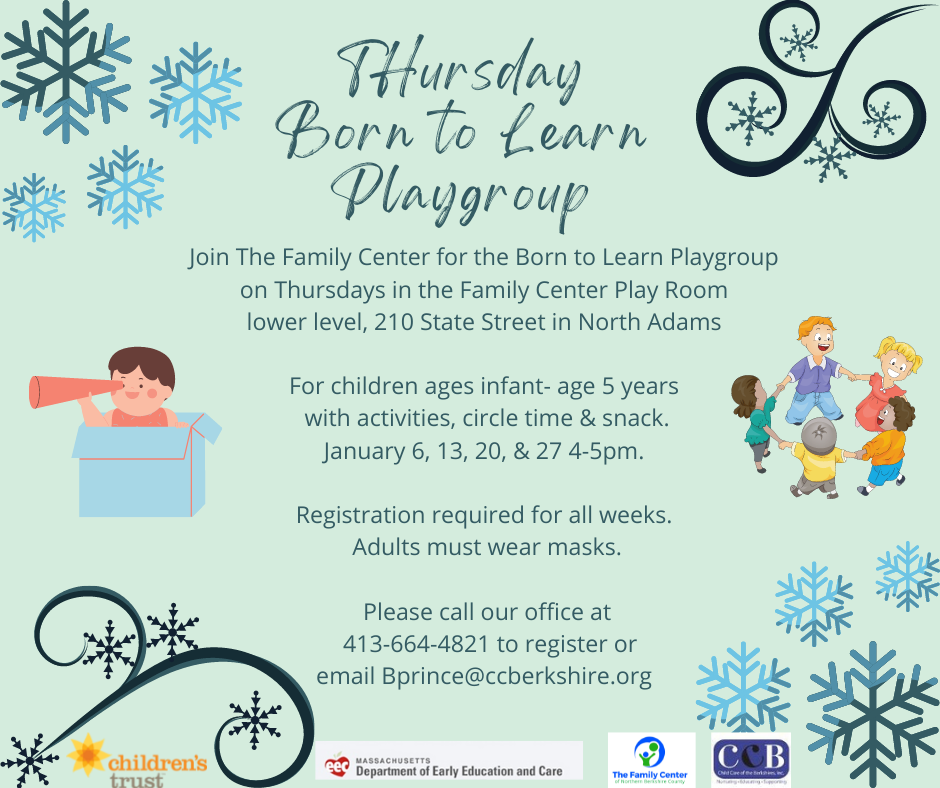 Upcoming programming from The Family Center.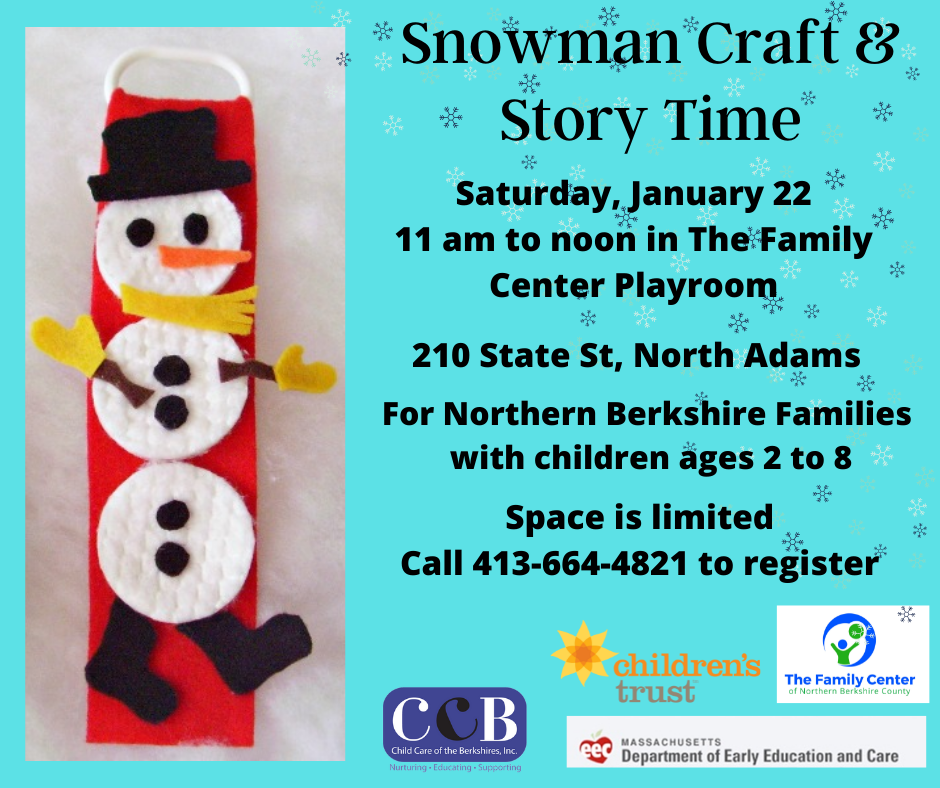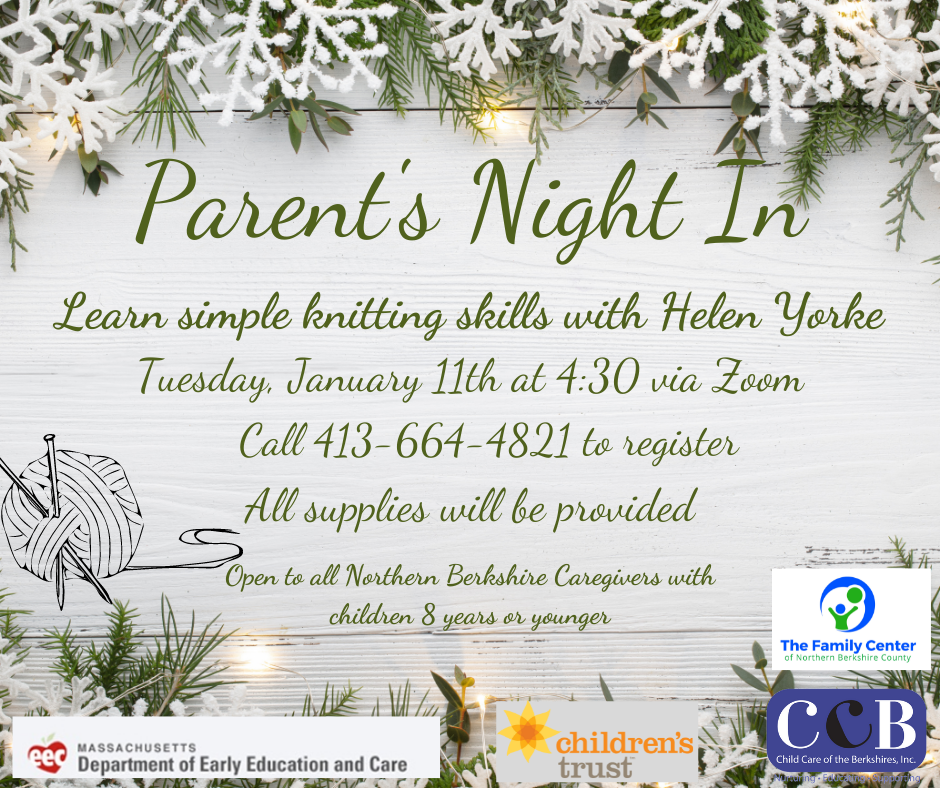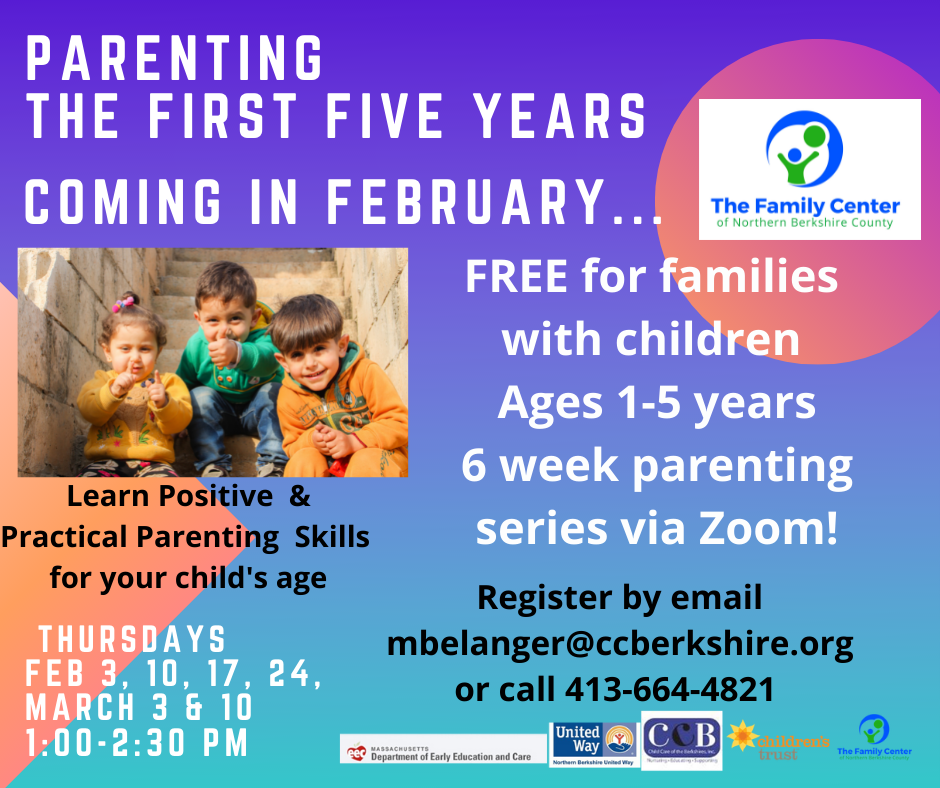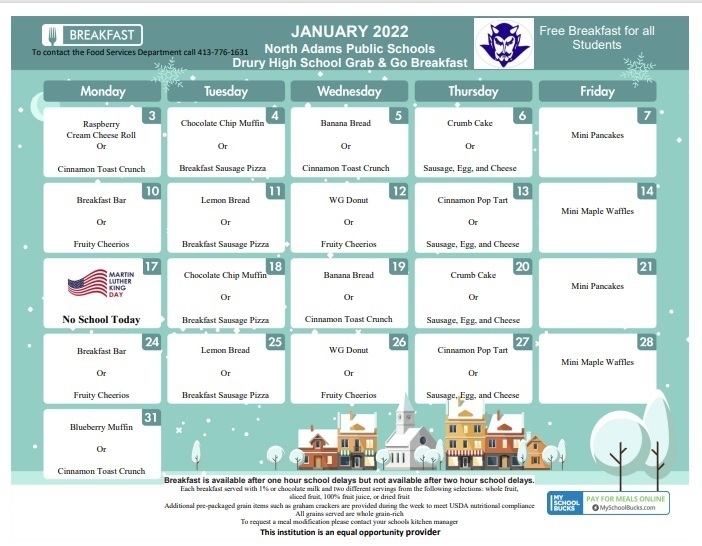 Save the Date: MLK Jr. Day of Service

Drop-in at Roots:

Winter Break programming at the North Adams Public LIbrary: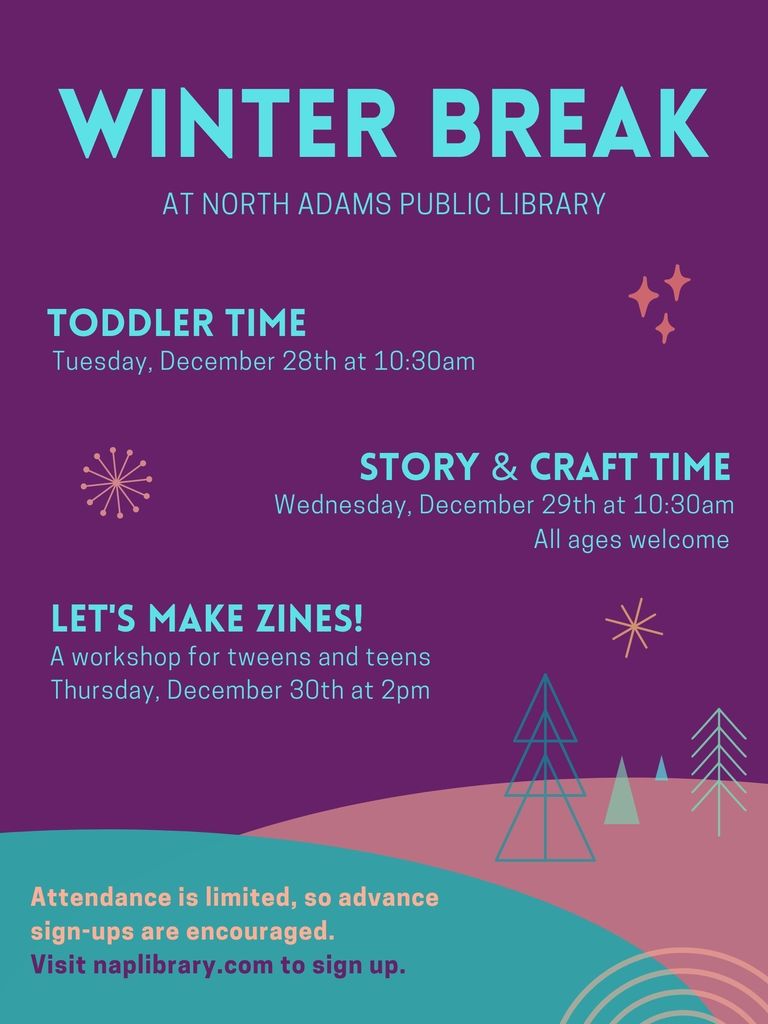 Splash your way to holiday during Splashmas at the Berkshire Family YMCA - Northern Berkshire branch on Saturday, December 18, 2021 from 12:00 - 2:00 PM. Register for your 30-minute wave at the Welcome Center or online
https://bfymca.org/events/splashmas-northern-berkshire-branch
. Join the Y for a festive, fun, splashy way to celebrate the holiday and spread holiday cheer. Smiles and laughter guaranteed! The Y will sink Christmas trees in the pool, children will grab their favorite decorations, then swim to decorate the tree. Other fun surprises in store!


North Adams Mobile Food Bank on Friday, 12/17. All are welcome!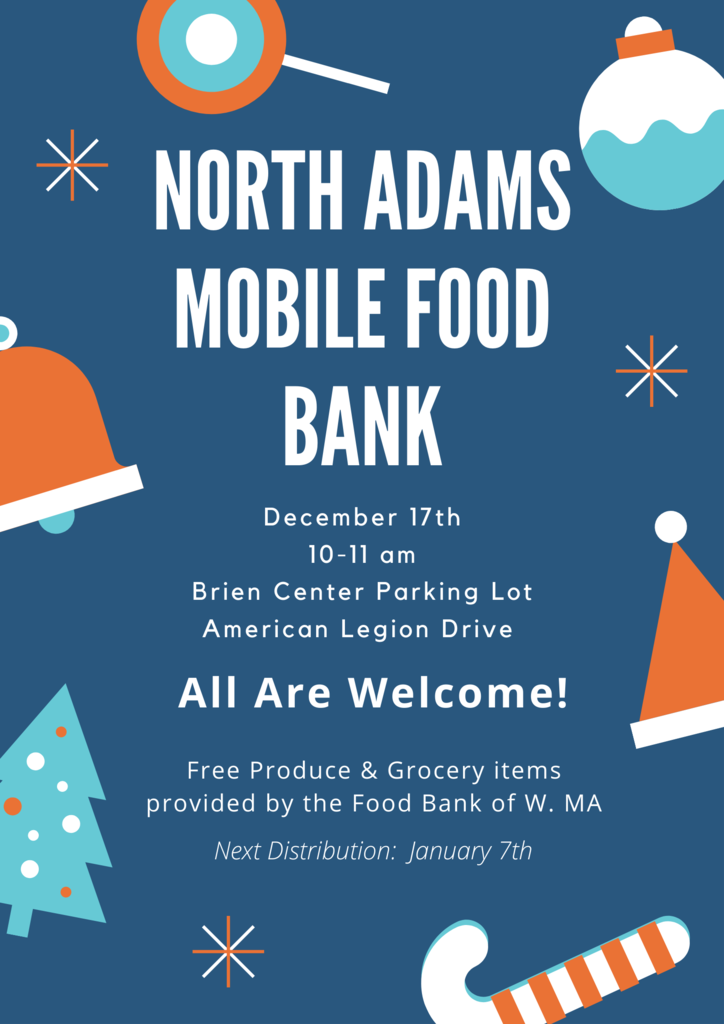 MLK Jr. Day of Service Monday, January 17, 2021 9:00am-1:00pm Interested in volunteering? Call 413-663-7588 or send an email to
csacherski@nbccoalition.org
.

The City of North Adams 2021 Holiday Food Drive: